Sustainer Anne Barben Furr Honored With First Sarah D. McKay Award  
by Sheila Lotterhos, Historian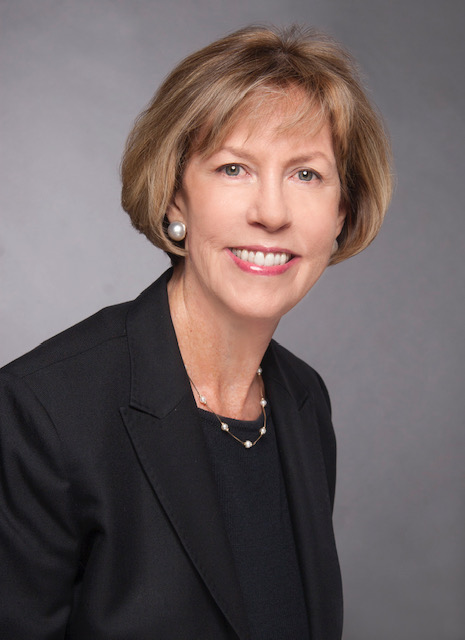 When it comes to Past President Anne Barben Furr, words like dependable, professional, civic-minded and responsible immediately come to mind. But that's only part of the picture. This civic leader, architect's wife, mother of three, grandmother of five and community volunteer loves to laugh and appreciates creativity. So it's no surprise that Anne would not only co-chair our 100th Hurrah Follies but that she would introduce the holiday tradition of the Lakeland Christmas Parade to our community and assure its 38-year success by involving the Junior League and its volunteers.
"Anne is the only person I know who could talk me into dressing in a Miss Piggy costume to ride in a convertible as Grand Marshall for the first Lakeland Christmas Parade," said Sustainer Emeritus Bena Bayless who later served during Anne's League presidency as her sustaining advisor. "I guess the secret's finally out now about Miss Piggy. As to Anne's presidency, it was so easy working with her. We had a lot of fun, and she was very responsible and efficient — just a great League president."
According to Anne's siblings (whose anonymity we shall endeavor to protect), her ability to marshal the troops for a parade began with Anne packing her mom's Woodie (i.e., a vintage station wagon with faux wood paneling) full of teenage friends and "pulling into the local A & W, everyone jumping out, running around the car, getting back in and driving away, all while giggling like kindergartners." Supervisory skills? Anne obviously believed in experience being the best teacher — "While babysitting the youngest two, she went back to bed, and  they spent the morning 'watering' the living room with the garden hose." No doubt Anne's humility was honed when her baby brother "often tricycled in front of her high school friends, with him clad in nothing more than cowboy boots and a hat." So we clearly have Anne's siblings to thank for her early leadership training and her signature game face, sometimes crowned by a fleeting glimpse of incredulity. 
After high school graduation, Anne decided to major in education, attended Queen's College for two years, and received both her undergraduate and graduate degrees from the University of Florida. Anne then taught in both the Marion and Polk County school systems and tutored at the Learning Resource Center, an agency proudly founded by the League.  Even after Anne became a Lakeland City Commissioner, she worked as a substitute teacher in local schools, keeping her finger on the pulse of our community's children, and for years, she was a facilitator of school/business partnerships for the Polk County School Board. All totaled Anne spent a dozen years on the Lakeland City Commission followed by an equally long stint as the executive director of the Lakeland Downtown Development Authority.   
Anne's volunteer work includes service on the boards of Leadership Lakeland Alumni Association, Lakeland Kiwanis Club, Heart of Florida Girl Scout Council and Lakeland Area Chamber of Commerce as well as Volunteers in Service to the Elderly (VISTE) Advisory Board, Good Shepherd's Lakeland Hospice House Advisory Committee, and as a director of Community Southern Bank. Anne also chaired Leadership Lakeland VIII, the LRMC Board of Trustees, the Central Florida Regional Planning Council and the Central Florida Speech and Hearing Center Board. 
Anne served the Junior League of Greater Lakeland as Follies Co-Chair, Nominating Chair, RIF Chair ("Possibly my favorite placement as It dovetailed many of the things I love best," she stated), Treasurer, and President. In 2014-2015, Anne held the position of sustaining advisor to then President Ashley Link who had this to say about her friend and mentor, "I made an excellent decision if I do say so myself when I asked Anne to serve as my sustaining advisor when I was president. She is wise, compassionate, patient, and discerning, all qualities I admire and greatly appreciate. Not to mention, she is devoted to this community and to this League, both of which would not be where they are today without her influence and contributions. Anne makes everyone around her better because we all try to exude just a little bit of what she has. On a list of people who deserve this recognition, she is at the top."
As busy in retirement as she was before, Anne is currently serving as secretary of the GiveWell Community Foundation Board, vice-chair of the Good Shepherd Hospice Board, and on the exciting new Bonnett Springs Park Steering Committee.  Bearing in mind her remarkable resume of community service, there is little wonder that Anne received the 2007 Woman of Distinction Award, the 2005 Jere Annis Leadership Award, and the 2002 Partnership Award.  Hence it is with great pride that the Junior League awarded Anne our first Sarah D. McKay Award. 
JLGL Past President Sarah Dukes McKay, one of AJLI's Notable Members and a Great Floridian, presented this inaugural award to Anne at the Spring Banquet and said, "I have known Anne Furr as a friend for many years, and in addition to her great work with the League and the Lakeland community, I know that the Polk County School Board must be especially proud of Anne for her work as a teacher, a substitute, a tutor, and a facilitator of school/business partnerships. Anne is so deserving, and I am proud to have the opportunity to present this extraordinary woman with our League award for extraordinary service. Well done, Anne!" 
Those of us who were seated near Anne can testify by the expression on her face that she wasn't exaggerating when she stated, "To say I am shocked to receive this award is an understatement. I am floored, but I am also honored to receive an award named for Sarah Dukes McKay whom I consider not only an amazing community leader, but a favorite mentor and long-time friend. The fact that it comes from the Junior League, an organization I've loved and served for years, makes it all the sweeter. Thank you from the bottom of my heart. I'll treasure this always."
We all share JLGL President Callie Miller's sentiments when she said, "The Sarah D. McKay award was established in May 2018 to recognize a long-standing League member who personifies philanthropy, leadership, empowerment and inclusiveness, and a commitment to improving our community. Anne Furr personifies those attributes, and it was an honor to recognize her this spring. We are thankful for Anne's continued love of our community and our League. May we all strive to give as generously of ourselves."