Our building includes an entrance loggia, the Mildred Carter Jenkins Ballroom with stage, Celebration Garden, Grace's Kitchen-Grace Dukes Lewis, Lake Morton Drawing Room-Anne MacGreggor Jenkins, and the the Lotterhos Library.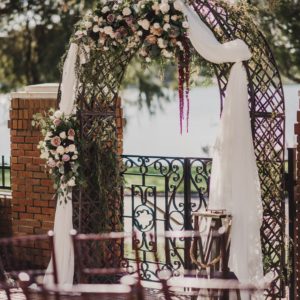 Rates include 18, 60-inch round tables, 120 chairs, and (11) 6-ft buffet tables. Event insurance is required for all events. The building is not recommended for parties over 120 people. See more information about event insurance at the bottom of this page.
Tax not included. 7% tax will apply.
Daily (Sun-Thurs): $1500 8am-2am
Friday $2000 8am-2am
Saturday $2500 8am-2am
RENTAL TIMES ABOVE INCLUDE ANY SET UP AND BREAKDOWN TIME.
Capacity of the Facility Including the Garden:
100-120 people Sit down only (the Junior League Building is NOT recommended for parties over 120  people for a sit down only event)
175 People -Cocktail event – standing event with cocktail height tables.
Chair and Table Availability (included in rental fee):
round table seating for 120 – ( 18 round, 60-inch tables )
120 white chairs – indoor use only
Twelve (11) 6 foot long buffet tables
***CHAIRS FOR OUTDOOR USE ARE NOT INCLUDED.
***Linens are NOT provided
LINK TO FREQUENTLY ASKED QUESTIONS
Rental also includes:
• Use of the garden and parking lot
• Ice machine (approximately 50 lbs of ice)
• 3  –  60 gallon trash cans and liners
• Fully stocked bathroom paper products/soap
• Commercial warming oven/refrigerator
Event insurance
Event insurance is required for all events and can be purchased through www.theeventhelper.com or www.wedsafe.com among others. Rates vary by event. For additional Rental Insurance information, as well as General Terms and Conditions, please contact us at Rentals@jlgl.org.
What are preferred vendors?
Preferred vendors are vendors who have provided JLGL proof of business liability coverage and have named Junior League of Greater Lakeland as an additional insured for one year. These vendors have been pre-approved by JLGL and are recommended by the Junior League of Greater Lakeland.
Am I required to use vendors from the preferred vendor list?
No. However, ALL vendors MUST provide proof of liability insurance and add JLGL as an additional insured.  If you chose to use a vendor other than those pre-qualified, you will be responsible for making sure the vendor provides the required information. Vendors WITHOUT insurance will NOT be allowed.