History of The Junior League Building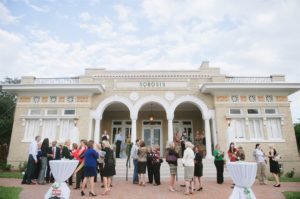 The Sorosis Club, a women's Club in Lakeland, was organized in 1922 and was named after the first incorporated women's Club in America, the Sorosis Club of New York. The original Club's mission included community service and social and cultural activities. In 1925 the Club purchased the land for their new clubhouse. Plans for the Italian Renaissance building by W.B. Talley (1871-1956), a Lakeland architect, were approved in 1926, and N.L completed construction. Snelson in 1927 at the cost of $42,000.   The building was the first community center in the city.
The Italian Renaissance style was most popular in the United States between 1890 and 1935. Typical class elements include the symmetrical design on the front of the building, a flat roof with a low wall around it, wrought-iron railings, recessed porches with arches, and small classical columns. Goldenrod, the club flower of The Sorosis Club, is stenciled below the roof. Two large stone lanterns on the front walk represent knowledge and leadership. The detailing of this building is unique in Lakeland and unusual in the Central Florida region.