History of The Junior League Building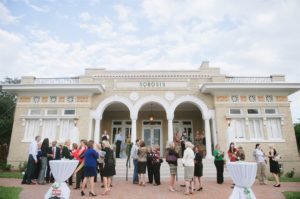 In 1922, a Lakeland women's club was organized and named the Sorosis Club after the first incorporated women's club in America, the Sorosis Club of New York. The club's mission included service to the community as well as social and cultural activities.  In 1925, the Sorosis Club purchased the land for their new clubhouse. Plans for the Italian Renaissance building by Lakeland architect W. B. Talley (1871-1956) were approved in 1926, and N. L. Snelson completed construction in 1927 at a cost of $42,000. The building was our city's first community center.
The Italian Renaissance style was most popular in the United States between 1890 and 1935. Typical stylistic elements include the symmetrical design on the front of the building, a flat roof with a low wall around it, wrought-iron railings, recessed porches with arches, and small classical columns. Goldenrod, the Sorosis Club's flower, is stenciled below the roof.  Two large stone lanterns on the front walk represent knowledge and leadership. The detailing of this building is unique in Lakeland and unusual for the Central Florida region.
Did you know you can be a part of Lakeland's history just by renting the Junior League Building for your event?
So much more than one of the most beautiful buildings in town…
Even more than the wonderful memories from happily-ever-after bridal and anniversary receptions.
More than the joy of graduation and birthday parties.
Or the success of corporate events and antique shows.
When it gets right down to it, the rental of our facility helps defray the costs of maintaining one of Lakeland's most historic buildings, a classically beautiful Italian Renaissance structure originally built as a clubhouse for women because in the 1920s women were not allowed to meet in some of the buildings where men's clubs met.
As a matter of fact, our building was Lakeland's first clubhouse and was originally home to a women's group called the Sorosis Club.  Over 75 years later and having changed hands several times, the building was purchased by another women's group, the members of the Junior League.
Yet, the rental of our facility is more than preserving an historic women's clubhouse.
Your rental is an actual investment in our community at large.
Our agency, the Junior League of Greater Lakeland, as a charitable group of committed women volunteers, has added and continues to add to the quality of life in Lakeland for what has been 90 years in March of 2023!
Look around you. Our fingerprints are everywhere.
From the Lakeland Christmas Parade to the World of Reading Festival.
From the new Lake Bonnet Springs Park to the clothes closet at Tenneroc High School.
From the Polk Museum of Art to the Learning Resource Center, both of which we founded.
From the Polk Theatre outer lobby/kiosk restoration to the lobbying for and rebuilding of the promenade around Lake Mirror.
From project after project after project:
An incubator donated to the hospital in early years to help keep premature babies alive, Lakeland Public Library's first bookmobile and book-drop, Reading is FUNdamental, Explorations Five displays, Baptist Children's Home projects, and the Salvation Army's original Halo Child Enrichment Center on Massachusetts Avenue…
Gifts to agency after agency.
Tackling tough problems with compassion and determination.
We help make it happen!
We have made it happen with over one million free books given to thousands upon thousands of vulnerable children in our community and so much more.
We make the difference in many lives, and your rental of our building is a gift that allows us to keep on being the difference by giving and giving some more.
In 2005, our members bought and paid for this building out of our own pockets, and we want to share it as our gift to the community.
That's where you can help.
By renting the JLGL Building for your event, your story becomes part of our story.  And your story has even further ranging effects for good than the happy memories of a special day in your life. It becomes a special part in the lives of those less fortunate and in the lives of our community's children of all walks.
Please take a look around, and let us know if you need something.  We will be happy to answer your questions and would love for you to visit in person.
And above all, please consider investing in our building with the rental costs and becoming an important part of our community's story for years to come.
Written by Sheila Lotterhos