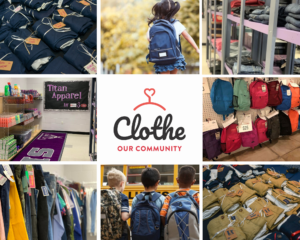 1 in 5 children in Polk County live in a household that struggles to put food on the table and clothes on their backs. Clothing Security as a Basic Need is a special focus area of Junior League of Greater Lakeland. Through our Clothe Our Community initiative, Junior League of Greater Lakeland partners with local nonprofits and other organizations to make sure our neighbors have greater access to clothing security.

We address this in two main ways: clothing closets and clothing backpacks. For higher grade levels, a clothing closet offers a sense of choice and independence. For younger grade levels, backpacks allow students quick access to the bare necessities. Both are provided in ways that aren't shameful to the student.
A $50 donation will provide a local student with a new backpack, filled with a new school uniform, a pack of socks, a pack of underwear, a sweatshirt, and a pack of toiletries. However, as little as $5 or $10 helps! Donate today to help!
Clothe Our Community is partially funded through the George W Jenkins Fund within GiveWell Community Foundation.