Junior League of Greater Lakeland Announces Sarah D. McKay Award
The Junior League of Greater Lakeland announced the creation of the Sarah D. McKay award during its annual meeting at the Lone Palm Golf Club on Tuesday, May 15, 2018. More than 140 members were in attendance for the event.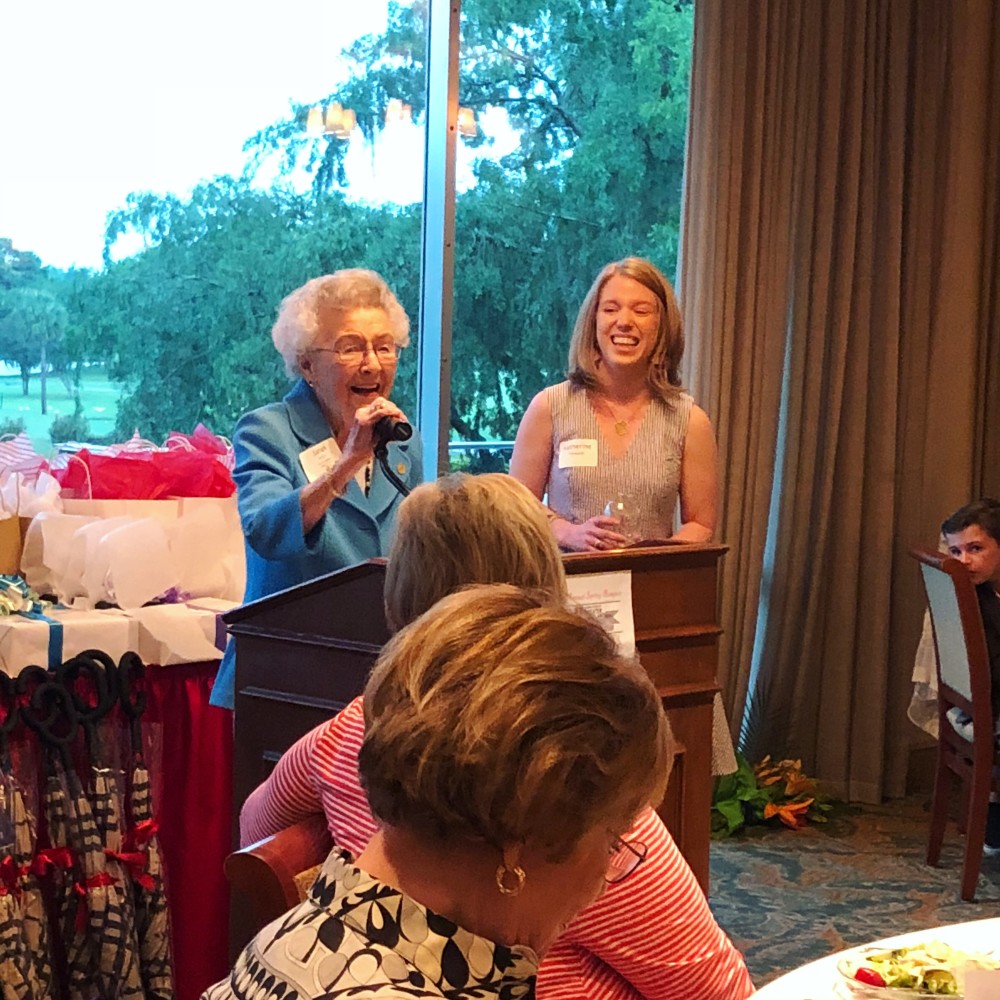 Junior League Communications Vice President Katherine Fitzwater recognized Sarah Dukes McKay who is a Sustainer Emeritus and past president of the Junior League of Greater Lakeland for her accomplishments.
The Sarah D. McKay award will be given annually to a Junior League of Greater Lakeland member in good standing who personifies philanthropy, leadership, empowerment and inclusiveness and a commitment to improving our community. 
"The Junior League of Greater Lakeland celebrated the 85th anniversary this year. The League took this opportunity to reflect on our rich history and our incredible members," said Katherine Fitzwater, Communications Vice President, "In doing so, one woman in particular stands out from the rest. For over nine decades, Sarah McKay has been making a difference in the lives of others in our community."
McKay serves as an active member of College Heights Methodist church and mother of three who started her volunteer career doing everything from Boy Scouts to PTA.
In 1955 she was invited to become a member of the Junior Welfare League, the predecessor of the Junior League of Greater Lakeland. At the time the League was involved in a variety of worthy causes such as purchasing and manning a bookmobile for the library, donating crutches and braces to children with disabilities and children's theatre to name a few. Her hard work and devotion to our League were rewarded when she was elected to serve as the 1964-1965 League president and later as sustaining advisor to President Anne McLaughlin.
She has served on numerous boards including the Polk Theatre, Downtown Lakeland Partnership, the United Way and GiveWell Community Foundation which awarded her its Legacy Award for civic leadership. She also served on the Board of Trustees for The Polk Museum of Art, receiving their Lifetime Achievement Award.
She shattered several glass ceilings by serving as the first woman chairman of the board of directors for Lakeland Regional Health where she was named Philanthropist of The Year, she served as the first woman president of the Florida Southern College Board of Trustees and in 2007 her work in business and the community was recognized when she became the first woman to be awarded the George W. Jenkins Award from the Lakeland Chamber of Commerce.
In education, she has made a lasting impact in both the public and private sectors. Her commitment to civics led Florida House, on whose council she serves, to create the McKay Civics Initiative for middle schoolers and garnered her the first-ever and much-deserved Champion of Education Award and Florida Southern College recognized her work with an Honorary Doctorate of Public Service.
She was named a "Great Floridian" by a proclamation of the State of Florida, a deserving title as you can see from this sampling of accomplishments.