Sarah D. McKay Award Winner 2021: Paula Bono Dockery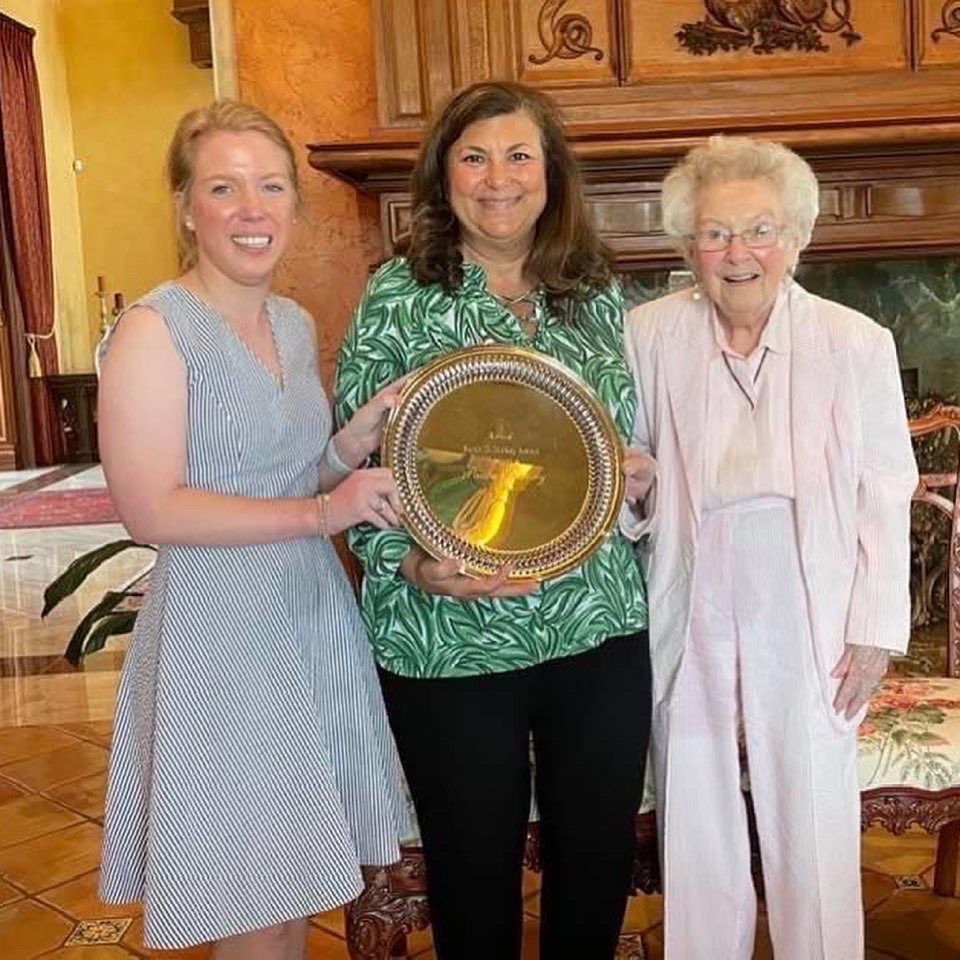 The Sarah Dukes McKay Award was established in May of 2018 to recognize a long-standing League member in good standing who personifies philanthropy, leadership, empowerment, inclusiveness, and a commitment to improving the community. 
Having had an illustrious career in state politics, this year's recipient of the Sarah Dukes McKay Award is certainly no stranger to Lakeland or the League. To that end, please allow us to review her accomplishments. 
Born in Queens, New York, Paula Bono Dockery grew up in South Florida.  Her first job was as a Publix cashier at the age of 16.  Later she graduated from The University of Florida, working as a graduate teaching assistant writing copy for an FM station while bartending on the side. Her love for politics was reflected in her master's thesis which examined the question of who sets the agenda in political campaigns. 
For 16 years, Paula served in the Florida Legislature where she was best known for her bipartisan efforts regarding the environment, criminal justice, and transportation issues. She was the primary sponsor of the popular bipartisan land acquisition program for the preservation and conservation of environmentally sensitive lands, known as The Florida Forever Act.  Paula even ran for Governor! 
As a syndicated columnist, Paula has produced columns that continue to be widely read. She also secured funding for the Colt Creek Preserve, established The Friends of Colt Creek, and has served as president since its inception. She has been an ardent advocate and involved in every aspect of the preserve from driving the tram to planting shrubs. Paula is practical, and when she takes on a project, you know it will be handled with civility, professionalism, and hard work. 
In terms of the League, Paula's first chairmanship was in 1993-1994 for CRPD. This dovetailed nicely with her future chairmanship of Done In A Day, which she co-chaired with Paula Mims. Done in A Day worked closely with CRPD and Placement, developing and providing a fun way to address the needs of the burgeoning number of working actives by allowing them to complete a "one and done" creative assignment for projects with various community agencies. Paula strove to make this a seamless, rewarding, and effective placement for all involved,  
Paula has been recognized for her commitment to our community and beyond. The Florida Education Association, The Florida Bar Association, The Builders, The Florida Chamber of Commerce, The Midwives Association, and The Florida Association of Counties are some of the many groups that have honored her. The city of Lakeland even declared October the first as Senator Paula Dockery Day. 
Paula is actively involved in Kiwanis and works tirelessly on behalf of school children. A graduate of Leadership Lakeland X, Paula has served on numerous community boards and non-profits. On a personal note, she has been married to her husband Doc Dockery for 32 years and counting. 
Hence it is with pride that the League announces Paula Bono Dockery as the recipient of the Junior League of Greater Lakeland's 2021 Sarah Dukes McKay Award. Congrats, Paula!