Member Spotlight: Sustainer Virginia Tacker Askew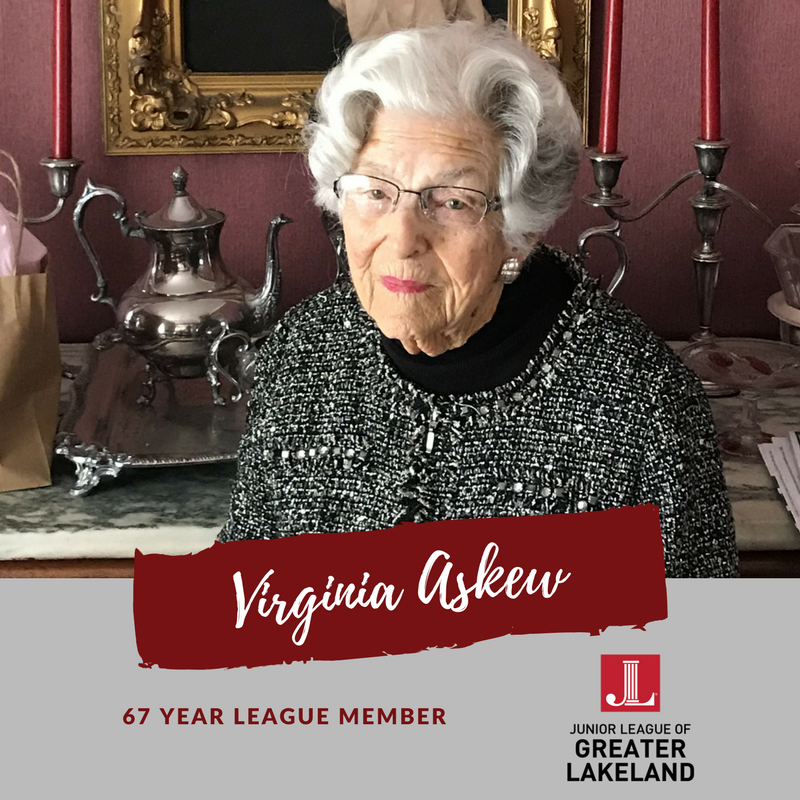 When you speak of Lakeland icons, the name of sustainer VIRGINIA TACKER ASKEW will always be included in the conversation. This 97-year old dynamo is loved by all who know her and is still actively making a difference in our community today.
 Virginia was born July 14, 1920 in Lakeland, attended Lakeland High School, received her elementary education degree from Florida State University and returned to Lakeland to teach at Central Avenue School and married Harry  L. Askew , Jr. in 1947. At age 30, she joined the Lakeland League, and as was custom at that time, all League provisionals went to Phillips Photography to have their photos taken to be featured on the society page of the Lakeland Ledger. Mr. Phillips did not think that Virginia's provisional photo did her justice and invited her back for a painted portrait.  That portrait of Virginia hangs above the buffet in her dining room today, a reminder of her service and friendships in the Junior League of Lakeland.
 When asked about some of her favorite projects and memories while active in the  League, she will tell you it was all about spending time working on projects with friends.   While serving as chairman of the Bargain Box committee, she started the "Bargain Box Tea." Publix donated large brown paper bags and invitations to the tea were printed on the bags. Guests came to the tea with bags filled with donations for the Bargain Box. It was a huge success. Passing on her fundraising talents, Virginia's daughter, Mary Hinson, was co-chairman of the Thrift Sale during her time in the Lakeland League.
 The Junior League Follies was another favorite League event for Virginia and her husband, Harry. They were in several musical performances together. In the production, GIRL CRAZY, Virginia was in charge of props for the performance. She remembers George Jenkins graciously let the League use space in one of the Publix warehouses and Publix donated all the lumber and sent carpenters to help construct the follies sets.
 Virginia is still active at First United Methodist Church, P.E.O, as a League Sustainer and involved in many other organizations. She has no plans of slowing down and is an inspiration and blessing to everyone around her.