Meet Alice O'Reilly, Our Sustaining Vice President and Sustainer Council Chair…
By Sheila Lotterhos, Sustainer Historian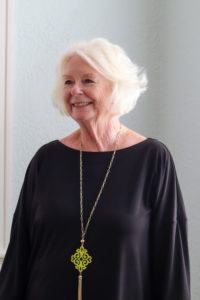 The JLGL dictionary has a face next to the word "go-getter", and that face belongs to Alice Culberson O'Reilly.  Alice possesses a reservoir of seemingly boundless energy, and thankfully for our League and our community, she dwells in a world of endless possibility.  
A true professional, this Lakeland native, who coincidentally was the first Lakeland baby born in her birth year, began a successful retail career as a child by charming her dad's customers in his Pine Street Hardware Store.  During high school, Alice began working for Maas Brothers. Executive training came after college. Alice then parlayed her skills into a job with Saks Fifth Avenue in San Francisco, returning to Lakeland to be the buyer and manager of Rheinhaurer's.  
Alice's tour de force, however, was her tenure at the helm of VISTE (Volunteers in Service to The Elderly).  If there was a problem for Lakeland's frail seniors, Alice found a solution. When it was discovered that some VISTE clients were forced to choose between taking their costly medication and paying their electric bill, Alice set out to solve the issue.  Governor Jeb Bush tapped her to serve on the Department of Elder Affairs Advisory Council, and she served successfully for his term.  Alice was also nominated by then Congressman Adam Putman to serve on the White House Council on Aging.  President George W. Bush approved her nomination as he appreciated Alice's passion for solving the increasing price of prescription drugs for the elderly. With a lot of assistance from many people across the country, the Council was successful in raising awareness of this critical issue, and Medicare Part D was the end result.  
Through Alice's leadership, more VISTE clients were served, and volunteers increased.  Bi-weekly hot meals were added along with more daily assurance calls, respite care, commodities boxes, and transportation to doctor's visits. A new fundraiser called VISTEBall was adopted, and a new building was purchased along with ample freezer and storage space for donated foods.  Vehicles were donated, and new communities were added under the umbrella of this grass roots effort to help frail seniors stay safely in their own homes. 
While Alice's love affair with the elderly began with the loving care she took of her own family members, her heartbeat has been for every frail senior living alone and lonely in their homes. The stories of the differences made in their lives are endless, but the reward is seeing their gratitude as their faces light up over something as simple as a jar of peanut butter. The more dramatic stories involve lives actually saved by volunteers making deliveries. 
In addition to her career, Alice served as what old friends termed the Lakeland "Mayoress" as the wife of former Mayor Frank O'Reilly.  Just ask her about her adventures! The couple love spending time with their daughter Krista's family, especially their two grown granddaughters, while Alice also enjoys PEO, Antiques Circle, and playing mahjong.  
Alice has been a valued League member for four+ decades, having served as CRPD chair, Community Vice President, and as a sustaining advisor.  As the current Sustaining Vice President/Sustainer Council Chair, Alice said, "I hope to unite our Sustainers further by adding new fun events and bringing back traditions. I'm looking forward to reconnecting with old friends and making new ones. We're a strong force for good, and I'm excited about spending the year with you."
The feeling is mutual, Alice.