Letter from President Callie Miller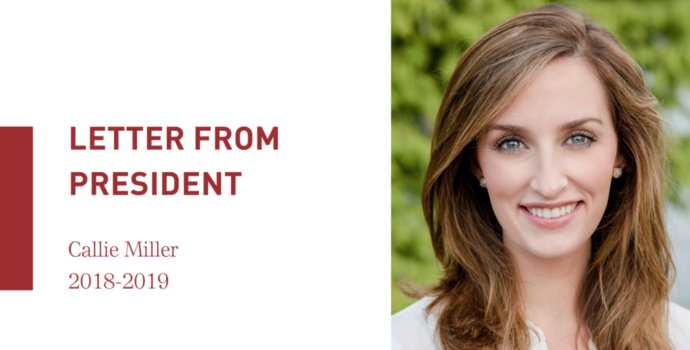 As I think of the 2018-19 year, I think of progress. I am proud of the progress our volunteers and leadership team have made this year in moving the needle on important community and League initiatives. I cannot emphasize enough how much I appreciate our Provisionals, our Active Members, and our Sustaining Members. Without you, we are not an organization capable of doing good and making a significant impact in our community as we have this year. You are leading progress and change. 
As the President of the League, I remain both humbled and full of pride in knowing that I represent the most dynamic, well-respected and powerful organization comprised of diverse women in our Lakeland Community. Thank you for the generosity of your time, resources, ideas, and passion that drives our organization forward.
As you review this Annual Report, you will see that we had an outstanding year. We raised a considerable amount of money to support the operations of the League and the needs of our community. Thrift Sale was a tremendous success in its first year back to the League, we hosted a beautiful 1920's inspired Spotlight on Style Fashion Show, and enhanced the impact that ProAm has in our community with a great evening party, tournament, and free community tennis clinic and storytime. We hosted the inaugural Light Up Lakeland, revamped Ready to Read, extended the reach of Reading is Fundamental and hosted a beautiful World of Reading festival to inspire the imaginations of children.  
Progress does not denote completion but momentum. And the League will continue supporting our community with great momentum and refinement; ensuring that we remain operationally sound, community-minded, and committed to membership development. Let's let our passion pull us forward. Our planning is what has given us great direction but our passion is what will propel the League forward – this year and for years to come. 
The League continues to be a well-respected leader whose focus is on building a stronger community for the future of Lakeland.

My best, 
Callie