Meet Past President Kimberly Elmhorst, Sustaining Advisor to the Community Council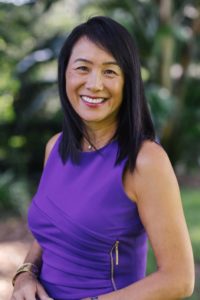 There's an expression that you sometimes hear about a person, that they are as beautiful on the inside as they are on the outside.  That expression certainly characterizes Kimberly (Kim) Elmhorst, and apparently it is a sentiment shared about her by many in Lakeland, especially her Jr. League colleagues.  Calm and kind and quick with a smile that lights up her face, Kim is a leader that anyone would be proud to emulate.  She wears her laurels lightly, and that makes them all the more evident.  They glow around her, following Kim wherever she goes.
A graduate of Florida Southern College with a BA in Communications, Kim credits her time there with giving her the spark to help develop her leadership potential which has functioned like a juggernaut of good for the Lakeland community. That being said, our close friend and late Sustainer Trish Deal, a librarian/media specialist for many years at Lime Street Elementary, had the uncanny ability to recognize and call it for future League presidents. Kim was one of them, and Kim showed this potential even in elementary school as Trish's library assistant.
After graduating from Florida Southern, Kim worked for ten years in college admissions, testing, and counseling. She also met and fell in love with her husband, Kurt, and married shortly after college. She was a stay-at-home mom for years, taking pride in being a good homemaker and raising her daughter, Kelsey, who is now a senior at Florida Southern College and son, Kale, who is now a junior at Lakeland High School.  When Kim, who was proposed by Eaton Lavigne, joined the League, she took every advantage of what she calls "the excellent, transformative leadership training" offered and became one of our League's shining stars. This began with her becoming "Co-Provisional of the Year" and next serving in numerous capacities such as Education/Training Chair, Resources and Development Chair, Assistant Treasurer, Finance VP, Recording Secretary, President-Elect, and culminated in her being President. Kim credits Past President Ruth E. Gardener as being her mentor in the League and for teaching Kim about servant leadership. Well done, both of you!
Kim then transferred those valuable skills into further community volunteer endeavors. She is such a pleasure to work with and never fails to be grateful for assistance whether large or small, whether recent or long ago, a true mark of genuine leadership. This is especially true in the volunteer arena where intrinsic rewards such as an attitude of gratitude motivates volunteers from every arena — Sustainers, Actives, and Provisionals.
Speaking of which, Leadership Lakeland offered a further network and more training for Kim.  As she spread her wings, Kim became involved with the GiveWell Foundation where she served as Regional Council Chair among other responsibilities, the Needlework Guild,  Lakeland Vision, Lakeland Volunteers in Medicine, LYCC, PigFest, and the Lakeland Assemblies Cotillion Board. Further, she enjoys antique club and her membership with First Presbyterian Church where she has been active in many areas such as Fine Arts Council, Activities Committee, Youth Director Search Committee, the chair of Human Resources, and serving as an elder.
One of the key groups with which Kim became enamored is the United Way. She took on major roles with this agency from chairing the Women's Leadership Council Advisory Board to membership on the Nominating and Facilities Committees of the United Way Board.  One of the most important things Kim did was to chair their annual campaign drive where she helped raise more funds than they had raised up to that date, an incredible $9.1 million! To that end, Kim was proudly named the United Way of Central Florida George W. Jenkins Volunteer of The Year.
Currently, Kim is the driving force behind the Board of Friends of Bonnet Springs Park where she serves as president of the 820-household member group. She is also serving on the Bonnet Springs Park Board in various capacities, having covered the whole waterfront with committee assignments on Arts & Culture, Construction/Safety/Security, Nominating/Governance,  Development, and CEO Transition.
But her community involvement doesn't end there.  Kim continues to serve our League and is currently the Sustaining Advisor to the JLGL Community Council Vice President.  Kim has served in the past as Sustainer Council Treasurer and as the Sustaining Advisor to the Pro-Am Tennis Tournament.  We are so blessed to have Kim on board this year, and we'd like to thank her for her continued commitment!