JLGL Recognized by Athena Awards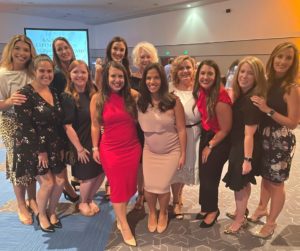 The Junior League of Greater Lakeland was recognized last night as the recipient of this year's Organizational ATHENA Award, presented by the Lakeland Chamber of Commerce and ATHENA International. The Junior League was among four finalists, including Central Florida Health Care, CPS Investment Advisors, and United Way of Central Florida.
The ATHENA Award recognizes the cultivation of professional female leadership. Founded in 1982, more than 7,000 top leaders in over 500 communities have received the prestigious ATHENA award in nine different countries. The award celebrates the ATHENA mission of supporting, developing and honoring women leaders, inspiring women to achieve their full potential creating balance in leadership worldwide.
"This award is representative of so many women in our community," said Lauren Albaum, President of The Junior League of Greater Lakeland. " As we approach our 90th year, we continue to serve our community by training women leaders, meeting community needs, and we look forward to 90 plus more years of doing just that."
Organization qualifications include community involvement, support for professional women within the organization, support for women outside of the organization and community references.
In addition, Lauren Albaum, President, was also awarded the Young Professionals Award. Among those recognized as finalists for this year's award also included Lauren Jensen. Congratulations ladies!