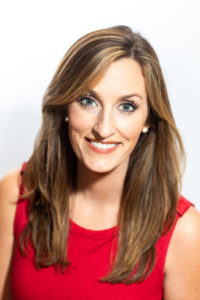 Update From President Callie Miller
'Hold on to your hat!' – or in this case, your Junior League apron! The Junior League of Greater Lakeland is an impressive organization fueled by a passion to do good! And, we're not slowing down. While it's important to pause and reflect, to improve and learn, what I have found is that when 550 women are motivated to build a stronger community, there's nothing that can stop them. What has been accomplished in just shy of a year has blown me away and as your President, friend, and community member, I am grateful.
For the League, the Fall was full of defining and retooling our fundraising efforts. And, boy, were we successful! From bringing back Thrift Sale, to hosting the Spotlight on Style Fashion Show, and introducing a new event, 'Light Up Lakeland,' to expanding upon ProAm this Spring, the League carefully and energetically leveraged events to gain excitement in our community for the League's mission. Coupled with the events, the League gained great traction in our new funding Partnership model where we are benefiting from organizations who trust the League to steward their generosity to meet critical needs in our community. On our website, you will find the names of the organizations who have given in abundance to the League. When you frequent their establishment, or say 'hello' to them in passing, please share your appreciation for their support.
With great financial support, the League carries great social responsibility. Throughout the next few months as you attend the Spring Sustainer Party on the Veranda (April 11) and the Spring Banquet (May 7), you will learn about the significant impact the League is having in and for our community.
The League gives members the opportunity to gain skills through hands-on work and leadership training that benefits the community and enhances our businesses, civic organizations, and quality of life. The city and region have greatly benefited from the volunteers and training opportunities that the League provides its members and the community.
Membership is now open for the Junior League, and we welcome all women who value our mission. We are committed to inclusive environments of individuals, organizations and communities. We are women building community.
I continue to humbled and honored to serve the Junior League of Greater Lakeland, and am so proud of the work of our members.
Whether you are reading this as a member, an Advisory Board member, one of our Partner funding organizations, or as someone considering membership, thank you. Thank you for sharing your time and talent with our organization. The League continues to be a well-respected leader whose focus is on building a stronger community for the future of Lakeland.
Thank you for your support.
My very best,
Callie