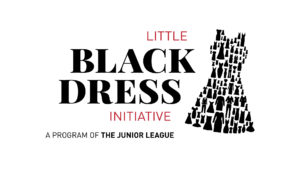 Can one black dress for five short days create awareness about issues that affect others for a lifetime?
 The iconic Little Black Dress (LBD) is usually thought of as just a fashionable wardrobe staple– great for business or a fun night out. So why is the LBD at the center of an awareness campaign about poverty? By wearing the same LBD for 5 days in a row, JLGL hopes to illustrate the restrictions poverty places on choices, opportunities, and access to resources.
 November 7-11  we hope to:
RAISE AWARENESS of the effects of poverty on the children in our community;
ILLUSTRATE how limited resources affect daily life
RAISE FUNDS TO Clothe Our Community.
The Junior League of Greater Lakeland works on projects and with community partners to Clothe our Community as well as bring awareness to issues that affect women and children's wellness. Our goal is to be able to pack at least 500 backpacks to be distributed in to our local children. Please support JLGL as they tackle this important issue. You can follow our Little Black Dress Initiative journey throughout the week on our Facebook Page.
How can YOU help?
Become a LBDI Advocate! You can sign up to join us. You will receive a participant manual with ALL the information you need to be successful. Sign up here!
2. Donate to our Little Black Dress Initiative! A full backpack (school uniform, backpack to keep, pack of socks, pack of underwear, toiletry kit, and more) can be sponsored for $50, but every little bit helps! As little as $5 can gift a new pack of socks to a child in need.
3) Tell your friends! Spreading the word is what LBDI is all about!